You Explore The Menu
Choose from our full menu of Chocolate, Coffee, Natural Fruit Juices & Smoothies, to Breakfast, Fresh Paninis, Lunch and Salad.
We Make Your Meal
We use high-quality ingredients and seasonal produce to scratch-make every meal right in our own kitchen. Tailored to each order.
We Deliver
Your meal is then handed off to one of our trusty team members, who'll bring it straight to your door in around 20-30 minutes. Enjoy!
Keep Up With Us Here
What "keto" means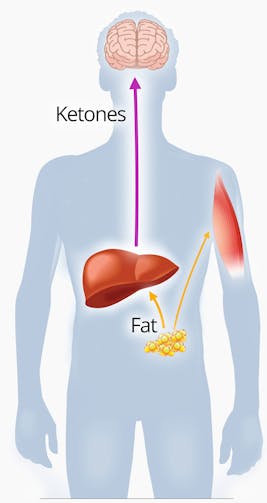 The "keto" in a ketogenic diet comes from the fact that it makes the body produce small fuel molecules called "ketones".
This is an alternative fuel for the body, used when blood sugar (glucose) is in short supply.
Ketones are produced if you eat very few carbs (that are quickly broken down into blood sugar) and only moderate amounts of protein (excess protein can also be converted to blood sugar).
Ketones are produced in the liver, from fat. They are then used as fuel throughout the body, including the brain. The brain is a hungry organ that consumes lots of energy every day, and it can't run on fat directly. It can only run on glucose… or ketones.
On a ketogenic diet, your entire body switches its fuel supply to run almost entirely on fat. Sugar levels become very low, and fat burning increases dramatically. It becomes easy to access your fat stores to burn them off. This is great if you're trying to lose weight, but there are also other less obvious benefits, such as less hunger and a steady supply of energy, keeping you alert and focused.
When the body produces ketones, it's said to be in ketosis. The fastest way to get there is by fasting – not eating anything – but nobody can fast forever.
A keto diet, on the other hand, can be eaten indefinitely and also results in ketosis. It has many of the benefits of fasting – including weight loss – without having to fast.
If you are interested, please visit our facebook page! You will find our weekly meal plans as well as prices!!
Sign up now and discover a fitter, healthier version of yourself!!
PS: …of course there is always room for dessert 😉